Moyer & Sons is proud to share that our Marketing Director Dan Cumberland Jr. , was recently announced as Greater Capital Area Assoc of Realtors 2020 Affiliate of the Year!
Dan has worked with the GCAAR association for many years demonstrating the Moyer family commitment to the realtor community as well as the GCAAR and Moyer community partners. Congratulations Dan on your tireless contribution to our community!
GCAAR's Affiliate of the Year: Dan Cumberland Jr.
As a kid growing up in Germantown, Dan used to watch the big blue Moyer trucks pass in front of his house, and as a teenager, he spent his summers doing volunteer work with the Montgomery County Recreation Department. Years later, these two life experiences would come together when Dan joined Moyer & Sons Moving & Storage as the marketing director – and took over the Moyer & Sons Community Partners Program, which has focused on helping eliminate homelessness in Maryland, DC and Virginia.
While working with partners such as the Montgomery County Coalition for the Homeless, Interfaith, KindWorks, Homes Not Borders, and A Wider Circle, Dan has been able to assist in food and clothing drives throughout the region, grab a few hundred pounds of mulch to beautify shelters, move furniture into a new home for refugee families, and take time to talk with individuals experiencing homelessness to find new ways to work together as a community.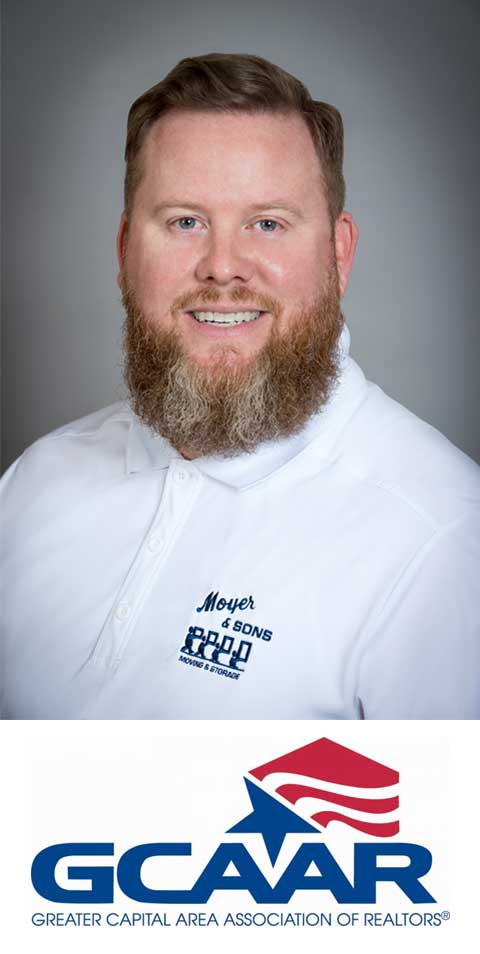 As a member of GCAAR's Community Service Committee, Dan has assisted in providing volunteer opportunities for all members of GCAAR. Dan directly supported REALTOR® Fest's silent auction in 2019, has given thousands of dollars in grants to community partners, has helped prepare Stepping Stones Shelter for displaced families, and regularly drops off Moyer boxes to GCAAR members for many of its food and clothing drives. In fact, Dan recently picked up thousands of items for the committee a part of its 2020 Shoebox Drive, getting essential items to homeless individuals within Montgomery County. Dan has served as a presenter at several GCAAR seminars on topics involving safety, regulations and the future of the moving industry.
Dan was born and raised in Montgomery County and attended Seneca Valley High School and the University of Maryland. He lives with his family in Gaithersburg. In his free time, Dan enjoys hiking, watching the O's play and participating in the non-profit haunted attraction, Markoff's Haunted Forest.
In its Affiliate of the Year, GCAAR looks for a member who is actively involved in volunteering at and sponsoring events year-round, joining a committee and going above and beyond in the community.